Guest Houses
Sardar Vallabhbhai Patel University of Agriculture &Technology, Meerut has two training hostels (Guest Houses) i.e. Farmer's Training Hostel and Training Hostel are primarily meant for official guests from different institutes, universities & other organizations. Room's allotment requires prior booking or on "first cum first serve'' basis based on availability. Our rooms at training hostels are well furnished and fitted with AC & Geysers.
Our training hostel & farmer's training hostel (Guest houses) are located on N.H. 58 (Delhi-Haridwar Highway) about 8 Kms from heart of the city of Meerut and 2 Kms after crossing Meerut Bypass (Dayawati Modi Academy) and 2 Kms from NHAI Toll Plaza (Siwaya) while coming from Muzaffarnagar towards Delhi. Both the guest houses are very adjacent to IIFSR (ICAR-Indian Institute of Farming Systems Research, Modipuram) & CPRIC (ICAR-Central Potato Research Institute Campus, Modipuram), Meerut.
The nearest airport is IGI airport New Delhi which is approximately 80 Kms away & Railway station is Meerut City (10 Kms) & Meerut Cantt (8 Kms) & well connected with state Roadways & local auto rikshaw/city bus service.
Historical Place Hastinapur is 40 Kms away, Barnawa (Laksha Grih), Sardhana Church are closely situated. Holy city Haridwar is approximately 130 Kms from this place.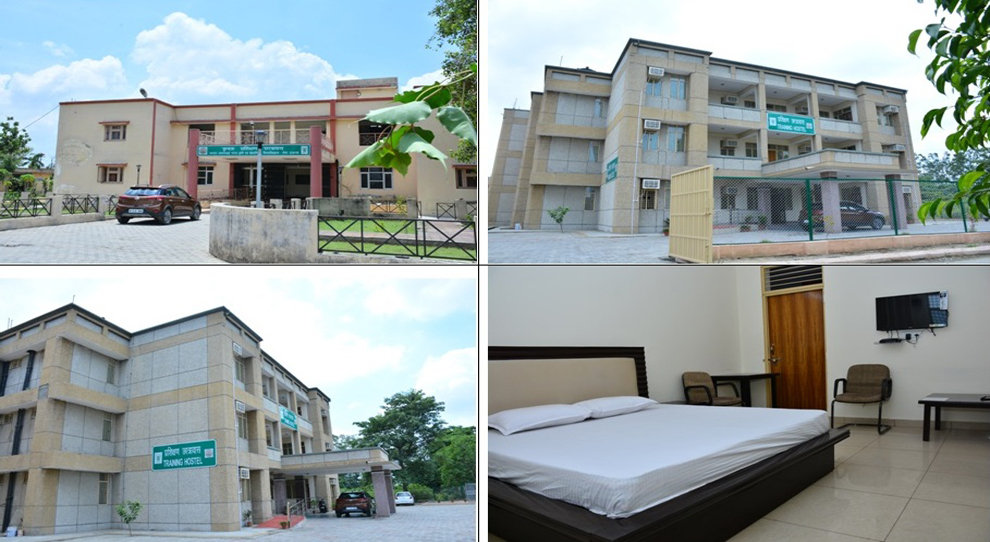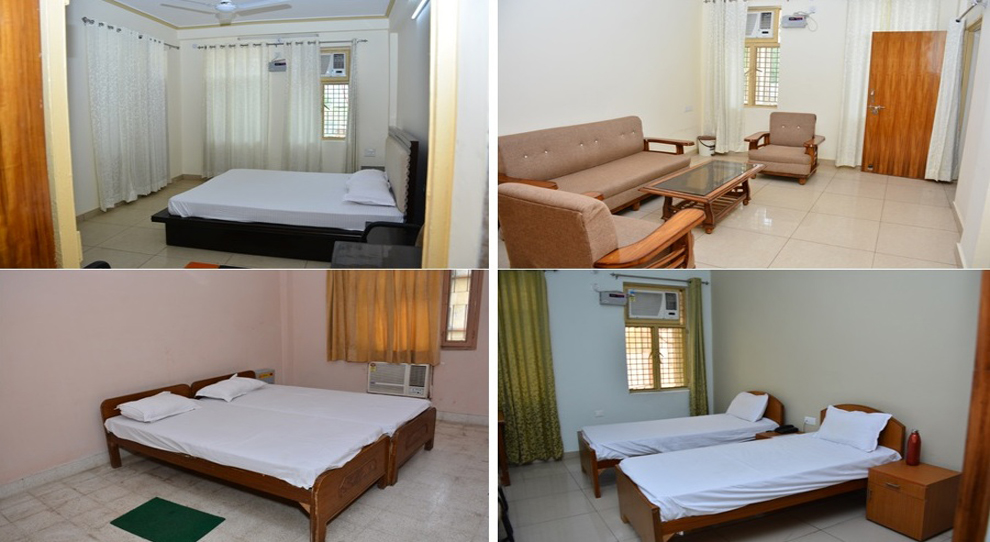 Tariff for Training Hostel
| | | | |
| --- | --- | --- | --- |
| S.No. | Category | AC Bed P/day/per person (Rs.) | Suit P/day (Rs.) |
| 01 | Serving and retired officer's of NARS(ICAR/SAUs) on official or private visit | 250.00 | 350.00 |
| 02 | Serving officers of State Govt./Central Govt./Autonomous organization/PSUs on official or private visit | 300.00 | 400.00 |
| 03 | Private Visitors i.e. other than SAUs/ICAR/central or State Govt. etc. | 450.00 | 600.00 |
| 04 | Foreign visitors (SAARC countries) | 1500.00 | 1700.00 |
| 05 | Foreign visitors other than (SAARC countries) | 2500.00 | 3000.00 |
| 06 | Meeting Hall for official programme | 3000.00 per day | |
| 07 | Meeting Hall for private programme | 4500.00 per day | |
| 08 | Kitchen for official programme | 1500.00 per day | |
| 09 | Kitchen for private programme | 3000.00 per day | |
| 10 | Dormitory | 50.00 per person per day | |
Tariff for Farmer Training Hostel
S.No.
Type of Room
University Employees including Retired University/ICAR Employees
Other Central Govt./State Govt. Employees
01
A.C. Room/Cooler Room
Rs. 110/- Bed for Official Tours
Rs. 200/- Bed for Private Tours
Rs. 150/- Bed for Official Tours
Rs. 250/- Bed for Private Tours
02
Non A.C. Room
Rs. 60/- Bed for Official Tours
Rs. 110/- Bed for Private Tours
Rs. 100/- Bed for Official Tours
Rs. 150/- Bed for Private Tours
03
Dormitory
Rs. 30/- Bed for Official Tours
Rs. 40/- Bed for Private Tours
Rs. 30/- Bed for Official Tours
Rs. 40/- Bed for Private Tours
04
Dining Hall
Rs. 1000/- per day
Rs. 1000/- per day
05
Training Hall
Rs. 2000/- per day
Rs. 2000/- per day
Dr. Hariom Katiyar (Officer In-charge) Email:- thostsvpuat@gmail.com Mobile:- 09450105524 (M)
Sh. Vinay Pratap Singh (Assistant Officer In-charge) Email:- thostsvpuat@gmail.com Mobile:- 09412830558 (M)