Organizational Setup
His excellency, the governer of of the state of Uttar Pradesh is the chancellor of the university and by virtue of his office he is head of the university and presides over convocations of the university. The other powers as conferred on him by University acts and statutes are also excercised by him as and when required his excellency. The University has a board of management (BOM) as per re-enactment and amendment act 1974 and the vice-chancellor is ts ex-officio chairmen. The other ex-officio members are principal secretaries of the state government to the departments of agriculture, finance, higher education and director of agricultureand animal husbandry of Uttar Pradesh. There is 01 member representing the legislative assembly and 05 members representing (01 each) agricultural scientists, progressive farmers, live-stock breeders, distinguished industrialists and outstanding women social workers nominated by state government. Besides, 01 nominee of the ICAR and 01 representative of the registered graduate of the university are also included. Following has been the members of the BOM during 2012-13.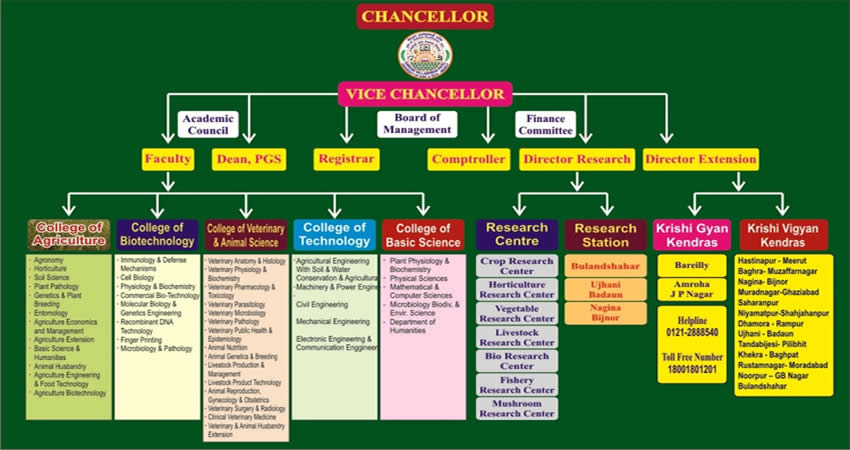 History of University
Sardar Vallabh Bhai Patel University of Agriculture and Technology established as a full-fledged University has unique honor of being called "First Agriculture University of the third millennium and the 21st century". It is committed to a unique mandate of integrating education research and extension so as to serve the rural people. The University was established on 2nd October 2000 under Uttar Pradesh Agriculture University Act (revised) 1958 gazette and notified vide 3204A/X12-8-2000. It was inaugurated on 28th March 2002 by the Honorable Chief Minister of Uttar Pradesh. It is recognized and funded by U.P. Govt. & ICAR, Govt. of India. It is included in the list of recognized Universities maintained by the University Grants Commission (UGC), Govt. of India.
The U.P Government has given the responsibility of all around development of the agriculture and rural community in its four divisions i.e Saharanpur, Meerut, Moradabad and Bareilly which consists of 15 districts i.e Saharanpur, Muzaffarangar, Meerut, Gautam Buddha Nagar, Ghaziabad, Bulandshahr, Baghpat, Bijnor, Jyotiba Phule Nagar, Moradabad, Rampur, Bareilly, Pilibhit, Baduan and Shahjahanpur. The state of U.P has 09 agro-climatic zones in which 03 falls under the Jurisdiction of this University.